Our Curriculum
St Bernadette's provides a rigorous, balanced and relevant curriculum, focused on the unique needs of each child.
Educating for the Future
The learning journey at St Bernadette's honours the developmental stages in a student's life. Based on leading educational research and the best of today's technologies, we prepare students for the future by teaching them how to think critically and creatively, how to communicate effectively and how to lead and work both independently and collaboratively.
We believe that quality education enriches and empowers the individual to make positive choices and enables them to utilise their God-given gifts for the good of the community.
Educating for the Future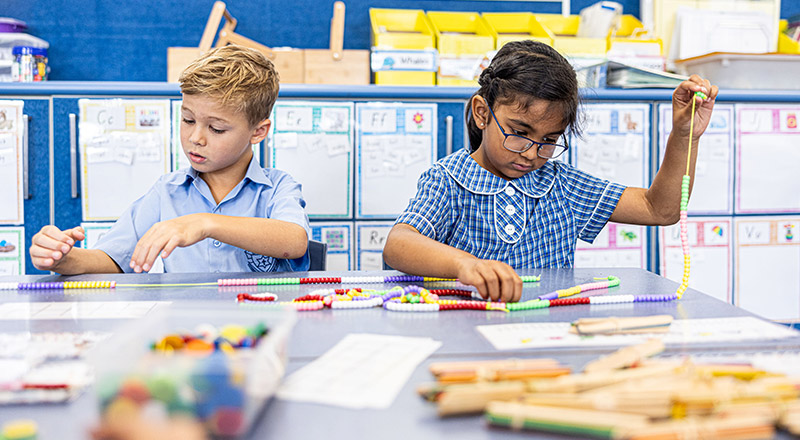 The Key Learning Areas
We follow the NSW Education Standards Authority (NESA) approved curriculum in the key learning areas of:
Religious Education
As a Catholic school we also have a strong religious dimension that runs through all the KLAs and is also formally recognised as the KLA of Religious Education.
St Bernadette's students take part in formal Religious Education every day, based on the new Catholic Schools Parramatta Diocese curriculum that is relevant to our students and to the world they live in.
Religious Education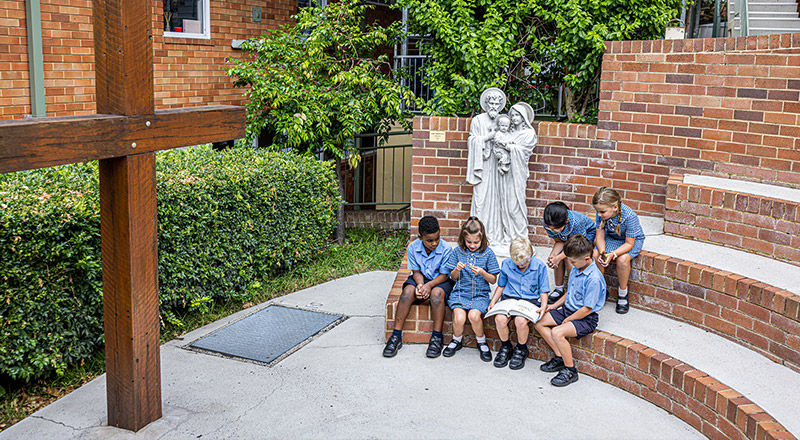 At St Bernadette's we approach learning in a way that mirrors the real world. We believe that learning can't easily be separated into different boxes.
Our teachers know that when a child is working with a group on a science experiment, he or she might well be operating and working in a variety of ways - questioning and explaining, making, sharing and writing observations, drawing graphs, calculating results, consulting references and much more.
For this reason, teaching and learning is often integrated across several curriculum area rather than taught as separate and discrete subjects.
As the building blocks for all learning, we have a strong focus on Literacy and Numeracy throughout our learning and teaching programs.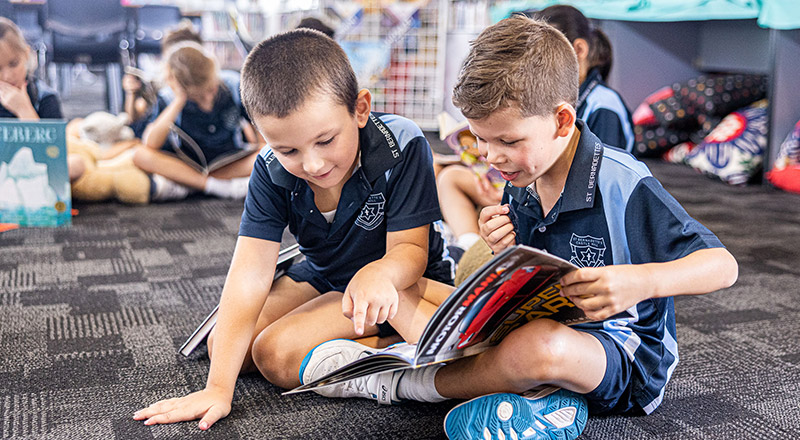 Literacy
Literacy learning at St Bernadette's is grounded in the content and processes outlined in the NSW English Syllabus. Students are specifically taught in the areas of Talking & Listening, Reading, and Writing through a balanced literacy model that involves teacher modelling and demonstration, shared or guided activities and independent activities.
Learning in the literacy area is supported by an extensive range of high-quality reading and library resources and technology. Learning programs are provided for students with special education and communication needs. St Bernadette's has a particular focus on early intervention, using the school's assessment and teaching resources to identify and assist students in need of support before the end of Stage 1 (Years 1 and 2). We use the Reading Recovery program, which aims to accelerate the progress of those at-risk literacy learners to the average level of their grade in their school, as quickly as possible, so students may obtain maximum benefit from classroom instruction.
The Reading Recovery Program provides:
individualised instruction for targeted underachieving individuals who have not responded to quality literacy instruction in the classroom
daily, intensive, high quality instruction to students experiencing reading and writing difficulties during their second year of school
lessons that are individually tailored to provide explicit instruction for each student.
Reading Recovery is supplementary and additional to classroom literacy instruction. Teachers trained in the delivery of Reading Recovery provide individual daily instruction for 30 minutes over an average period of 12 to 20 weeks.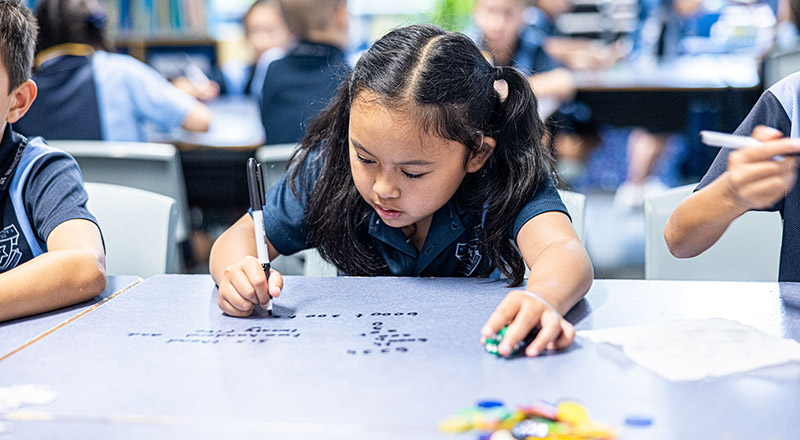 Numeracy
The continued development of numeracy learning at St Bernadette's is a particular area of focus. Our teachers have completed a professional development process called REaL Maths (Reflection, Empowerment and Learning in Maths) to better understand the demands of the contemporary Mathematics curriculum. We continue to build upon the school's collection of numeracy teaching and learning resources.
We are continually looking at new ways to improve the delivery of instruction in this area, so that the students receive the best possible understanding of the necessary concepts, knowledge and skills. We actively involve all students in Maths learning groups, where the teachers work with the students in their groups at their level, and challenge them to move to the next level.
For those students who require additional help in this area, St Bernadette's provides a Mathematical Intervention support group (based on the program Extending Mathematical Understanding - EMU). Identified students participate in a Mathematics program for 30 minutes a day, 5 days a week for a minimum of 25 hours to a maximum of 50 hours. Students work in a small group of three with a specially trained EMU intervention teacher.
Students in the EMU intervention program are involved in a range of activities to promote mathematical thinking. They also participate in home tasks learnt in their EMU sessions.
A curriculum that is engaging and relevant!
Contact St Bernadette's TODAY to learn more about our innovative learning community.